Inflatable Rentals Levy SC For Every Event
Inflatable rentals in Levy SC have never been easier or more convenient thanks to the team at Kidz Play Events. We have the largest selection of inflatable rentals Levy SC area has to offer, perfect for entertaining party guests of all ages. With years of doing business in the Levy SC area, we have a large inventory of unique rentals to choose from. Our team is passionate about providing good, clean fun, and entertainment to kids of all ages. There's nothing better than the look of joy and excitement on the face of a child when they see one of our brightly colored inflatables. We also love providing a much-needed reprieve for parents, giving them time to socialize with other adults while their children play all day.
At Kidz Play Events, there are so many choices when it comes to inflatables Levy SC. You can browse our selection of bounce houses, water slides, dry slides, obstacle courses, interactive games, and more! With so many options, you'll have no trouble finding the right type of fun for your party. No matter what the size or theme of your event, you can rest assured that we have the right inflatable rental Levy SC kids love to take it to the next level. Whether you're hosting a graduation party in your backyard or you're planning a large-scale community event, we have the party rentals to handle it. With years of dedicated local experience, you can be certain that you're working with a team that can handle any event with ease. Working with us guarantees that you'll receive clean, sanitized rentals, delivered on time, and with customer service that goes above and beyond. Take a look at our inflatable rentals Levy SC and get in touch with our professional team when you're ready to rent yours.
Order-by-Date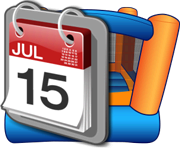 Interactives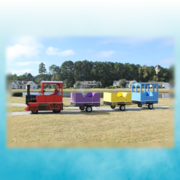 Obstacle Courses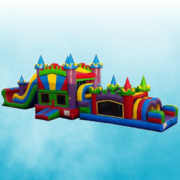 Water Slides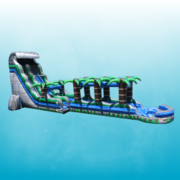 Wet Combos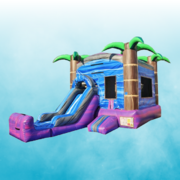 Bounce Houses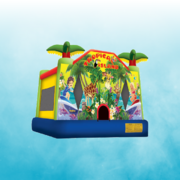 Combo Bouncers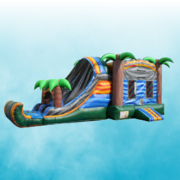 Concessions and Add-Ons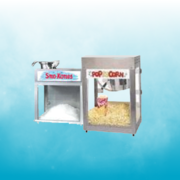 Tables and Chairs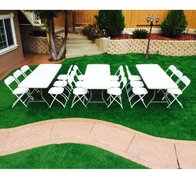 Amazing Selection of Bounce House Rentals Levy SC
Looking for the best selection of bounce house rentals Levy SC has ever seen? Look no further than Kidz Play Events. We have everything you can imagine and more. Inflatable bounce houses are just the type of fun that kids can't resist - they'll spend all afternoon bouncing, coming out only to grab a snack or some tasty concessions. Our bounce house rentals Levy SC are safe, clean, and constructed from the highest quality vinyl on the market. We use only commercial-grade inflatables for our rentals, giving you peace of mind that you're receiving safe rentals.
You've probably heard a bounce house Levy SC kids call them all sorts of wacky names - moonwalks, spacewalks, moonbounces, fun jumps, bouncy castles - to name a few. No matter what you call them, one thing is for certain, Kidz Play Events has the best selection to choose from in Levy, South Carolina. Our bouncers are the perfect party entertainment for kids ages 3 and up. Most of our bounce houses Levy SC can safely hold up to 8 children at once! We have so many colors, styles, and themes to choose from that there's no doubt you'll be able to find one to complement your event. Take, for example, our Blue Crush Bounce House. This 15' bouncy castle features beautiful palm trees and a beautiful color palette that pairs perfectly with all kinds of event themes.
Combo Bouncers and Obstacle Courses Loaded with Features and Fun
Want to take your Levy SC bounce house to the next level of fun? Then you'll want to check out our combo options and obstacle courses. These inflatables turn the fun and engagement up a notch. We have so many options to choose from, from varying sizes to activities that will keep your guests entertained for hours on end. No matter what type of event you're hosting, you'll certainly find something that everyone will love in our large selection. We have both wet and dry options - we've got you covered for every weather situation! Kids and party guests will be blown away by our rentals. They're big, bright, and jammed packed with action and fun. Our combo units feature the large bouncing area that everyone adores plus so much more - basketball hoops, climbing walls, pop-ups, and then some. You won't believe how much fun can be packed inside one inflatable!
Hosting a large crowd? Then you need to check out our inflatable obstacle course rentals and interactive games. These inflatables are the perfect way to get everyone up, on their feet, and participating in the action. We often deliver these with our bounce house rentals Levy SC to corporate events to promote team bonding and camaraderie. There are so many ways to challenge your party-goes and incite some friendly competition and good old fashioned fun!
Keeping Cool All Summer Long With Our Water Slides in Levy SC
Stay cool and beat the heat this summer with a giant inflatable water slide from Kidz Play Events! Our selection is unparalleled. There are so many ways to splish, splash, slide, and have a great time with our water slide rentals Levy SC teenagers go crazy over. Your guests will have the time of their lives, making memories that last a lifetime. We have so many options to choose from, including various sizes, themes, and designs that you'll find the perfect one for your venue. We can't think of a better way to stay cool and have a ball all day long than with a giant inflatable water slide rental Levy SC. We have options that range from 15' to 29' tall! So whether you're hosting an event in your backyard for a small crowd or a large event for a big group, you can rest assured that we have you covered. Many of our water slides Levy SC feature dual sliding lanes and a large splash pool at the bottom, giving two guests at a time the chance to race to the bottom.
Want the thrill and refreshment of a water slide Levy SC combined with other fun elements that encourage more fun? Our water combo units do just that. Your guests will get the best of both worlds, enjoying the water slide fun and bouncing excitement - all in one convenient unit. It's the perfect all-in-one solution for making sure that no one at your event is bored. We have options for every age, venue, and party type. We make party entertainment easy, fun, and exciting. With our Levy SC water slide rentals, you can guarantee that your outdoor summer party will be a hit!
Inflatable Dry Slides for the Cooler Months
Who says an indoor party can't be a great time? Not us! We know that with the right inflatable dry slides, your party can go from dull to full - full of fun and excitement that is! We have multiple inflatable slide rentals Levy SC options to choose from that are the ideal party entertainment for indoor parties and those hosted outdoors during cooler weather months. We deliver our amazing dry slides to fall festivals, birthday parties, and school events year-round. We have multiple sizes and themes to choose from. We can even upgrade your fun by renting a combo bouncer. Who cares if the weather is cool when you have an inflatable slide to keep you busy all day long.
Package Your Inflatables with Event Rentals for Larger Events
If you're planning a large-scale event, the most efficient and cost-effective way to provide entertainment is to take advantage of our party packages. We can create custom-tailored solutions that suit the specific needs and demographics of your event. We'll bundle together the best in fun and entertainment and deliver it to your party. We'll make sure you have everything you need to make it a success, from bounce houses and water slides to concessions and interactive games.
We have so many unique options to choose from. From our giant dance dome that allows your guests, young and old, to dance and party the day away to our Ninja Warrior Meltdown game that will have every guest on their feet, waiting to take on the next challenger in good clean fun. No matter what type of event you're hosting, you can rest assured that we'll help make sure you have the right event rentals Levy SC customers can rely on to impress any guest.
Choose a Party Rental Company You Can Trust
When it comes to choosing a party rental company, you can't just go with anyone. You need a provider that's dedicated to bringing the best party and event rentals to the area at prices that you can afford. At KidzPlay Events, we believe that party rentals shouldn't break the bank. We know that planning a party is costly and time-consuming, so we make it easy to get the rentals you need, at a price that you can afford. We're locally owned and operated, serving our local area for years. We care about our community and we're dedicated to helping make sure your event is a success. For the best party rentals in Levy SC, call KidzPlay Events today!
All our inflatables are commercial-grade and made from lead-free vinyl. We're committed to your safety and we prove it by providing clean, quality rentals, delivered on time and ready for fun. We're so confident in our rentals that we guarantee them! Ready to book your Levy SC party rentals? Get in touch today!
Delivering Bounce Houses All Over Levy SC and Beyond
For years, KidzPlay has been delivering FUN to tons of happy customers all over the Levy, South Carolina area in Jasper County. Among those are plenty of residential kids birthday parties, school field days, church functions and fundraisers among those corporate events. Among those events are school water days and fall festivals in the Jasper County School District.
Not only do we deliver our awesome inflatable bounce houses Levy SC kids love to backyard birthday parties but we also cater to those parties at local parks as well. What better way to have an outdoor event than a beautiful park in Levy. Keep in mind, you may need to rent a generator and get a permit from the city parks and recreation department.
Either way, we can handle any event located in Levy area with a zip code of 22927. We deliver all over the surrounding cities as well like Okatie and Hilton Head Island. Check out our delivery area for a full list of cities we service.
Booking Inflatables Easier Than You Ever Thought Possible
At KidzPlay Events, we've streamlined the event rental process to make it as simple and easy as possible for our customers to get the party rentals they need. You can use our secure online ordering system to reserve your bounce house rentals Levy SC anytime you're ready, from any device. Here's how it works:


Select your Inflatable or Party Rental


Choose Date and Time


Enter Customer and Event Information


Pay Deposit and Digitally Sign Contract


Once completed, we'll be in touch with a confirmation email immediately. We'll then follow up with reminder emails as your event date draws nearer. Should you have any questions at any point in the process, we welcome you to reach out to our friendly and knowledgeable team at any time. We've simplified the event rental process to make it as convenient as possible for you so that you can move on with your day and your party with confidence.
Testimonials from Our Happy Customers in Levy GA
Take a look at what some of our raving customers have to say about our service and our rentals. We aim for 100% satisfaction on every order, which means that we go above and beyond for our customers giving them the support they need. We deliver our rentals all over Levy SC and the surrounding areas. Get in touch today to book yours!